15 years doing ScrumBut
First things first… What is Scrum?
Summary:
Static View
The Scrum Team

The Product Owner
The Development Team
The Scrum Master

Scrum Events

The Sprint
Sprint Planning
Daily Scrum
Sprint Review
Sprint Retrospective

Scrum Artifacts

Product Backlog
Sprint Backlog
Increment

Artifact Transparency
Scrum But
ScrumButs are reasons why teams can't take full advantage of Scrum to solve their problems and realize the full benefits of product development using Scrum.
A ScrumBut has a particular syntax: (ScrumBut)(Reason)(Workaround)
"(We use Scrum, but) (having a Daily Scrum every day is too much overhead,) (so we only have one per week.)"

"(We use Scrum, but) (Retrospectives are a waste of time,) (so we don't do them.)"

"(We use Scrum, but) (we can't build a piece of functionality in a month,) (so our Sprints are 6 weeks long.)"

"(We use Scrum, but) (sometimes our managers give us special tasks,) (so we don't always have time to meet our definition of done.)"
Is it worth it?
86% of projects are challenged or failed.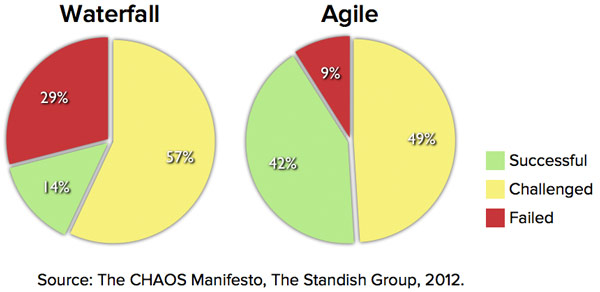 Waterfall is a misunderstanding from the beginning
Waterfall was supposedly "invented" by the paper "Managing the Development of Large Software Systems" by Dr. Winston W. Royce in 1970
I believe in this concept, but the implementation described above is risky and invites failure.
Mismatch between the model and the problem
Is a baby a smaller version of an adult?
In the same vein:
CMM was born by studying NASA, IBM, DoD
PMBOK was born to manage Bridge construction
Our organizations aren´t like those!!
(2000) TDEXA
(2006) OmniTI — NYC
(2011) SoftLogik
(2014) CIMAT Thesis
(2015) ITSZaS
TDEXA
Summary
Results
Empresa de 5 anios
Sistem instaled in over 14,000 schools around the country.
+ Things we did Right and want to repeat:
Commited Team
Continuous communication with customers
Fulltime software developers
- Things we did wrong and want to avoid:
We didn´t have a mentor. (Scrum Master)
We didn´t use automated tools. (Continuous Integration)
We didn´t search for bigger markets
OmniTI
Summary
+ Things we want to repeat
Having free beer in the office
Experienced developers (phds) Open source contribution.
Profitable
- Things we want to avoid
Arrogance
Wrong use of methodologies
SoftLogik
Summary
Results
The best software company
Average it makes projects in 66% the time it takes their competition.
Wins every Government Contract it goes to. Saving the government between MXN $1M - 3M
The most profitable company in Zacatecas per employee.
+ Things we did right and want to do again.
Incubation process in Scrum (6 months)
We didin´t impose the methodology it Evolved from developers themselves.
We used automated tools for everything

Continuous Integration
Code coverage
unit testing
- Things we did wrong and want to avoid
Softlogik stopped learning… ie not being agile.
Top management wasn´t commited to the methodology.
We didn´t do Continuous Deployment
CIMAT
Summary
Results
100% Thesis finished on time or before time.
With projections and metrics.
+ Things we did well and want to keep doing.
We use metrics to manage the project
take the right corrective actions on time.
- Things we want to avoid
sometimes we don´t work as a team.
we haven´t been able to transmit the method in the whole organization.
ITSZaS
Summary
Results
Students with commitment
Teachers with appreciation
+ Things we want to repeat
Fulltime during two weeks
Configuration of servers to be locally available
Mentoring for 6 months
- Things we want to avoid
Part time of students and teachers
lack of alignment between Top Management and the Software Factory.
Common mistakes
Not using code repository?
Not using pair progamming / code reviews?
Not writing unit-tests?
Lack of automatization
not using Continuous Integration?
Changing the dates of the Sprint Review
Doing Scrum But
Doing Scrum by the book after 3 months.
Stop Learing